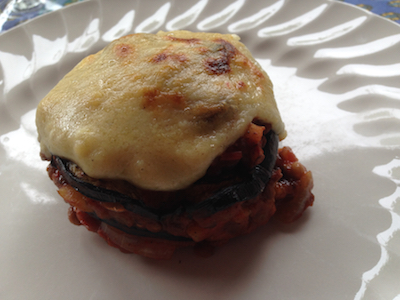 We've had some hot spells this summer and I've been doing a lot of Mediterranean food. This is a designer variation on the classic Greek dish inspired by a travel programme I saw on TV.
– Mince beef and lamb (50/50) and fry in olive oil with some onions
– Once the meat is browned add crushed garlic, a chopped chilli and some ground cinnamon, mix well for a few minutes and then add crushed tomatoes and a little red wine. Cook on a low heat.
– Heat a cast iron griddle (I use the ribbed side so as to obtain a pretty criss cross pattern on the vegetables but the flat "plancha" side will work also)
– Peel and chop a large round potato into 7mm (1/4in) slices. Brush with olive oil and place on the griddle. Once they are browned on one side turn them over
– Chop a large aubergine into similar slices (keep the skin on), brush with oil and place on the griddle with the potatoes. Depending on the size of your griddle, you may have to do all this in batches. Finely chop any left-over aubergines bits and add to the meat mixture.
– Make a bechamel sauce with salty butter and flour, add a little white wine and when it starts to thicken add some milk. Sprinkle ground nutmeg. Once the sauce is cooked through and quite thick, crumble in some feta cheese and parmesan, mix well until the cheese is melted. Let the sauce cool a little and add an egg, mix well.
– Heat the grill in your oven. As the moussakas are finished off under the grill in a hot oven, you can even cook the vegetables and meat in advance and allow them to cool, which makes the next step a lot easier
– On an oven proof plate you now assemble the individual moussakas. I use stainless steel ring moulds to keep the shape but this is not absolutely necessary providing you take care when adding the different layers. Start with the bottom layer of potato then add a little meat mixture then a slice of grilled aubergine then a little more meat and repeat the whole process.
– Pour over a little cheesy sauce and place under the hot grill until the cheese topping is browned.
– Serve with a salad (Greek obviously)
I have also done a vegetarian version of this recipe replacing the meat with cooked green lentils, delicious.