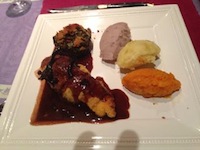 I have already posted my signature dish of chicken rolls stuffed with black Horn of Plenty mushrooms. You can find the recipe here.
These little black mushrooms are plentiful in our part of the world in the Autumn and they dry out very easily and can be kept all year. In French we call them "Trompettes de la Mort" which literally translates as "deathly trumpets"
I usually serve these chicken rolls with a blueberry and Madeira sauce.
In this photo I have accompanied the chicken with:
– a stuffed garlic mushroom: fry some chopped bacon and the mushroom stalks, mix with some garlic and parsley, stuff your mushrooms and top with breadcrumbs, bake in a hot oven until browned on top
– mashed vegetables: the purple colored mash is from our homegrown black potatoes, also shown is yellow turnip mash and carrot/cumin mash.