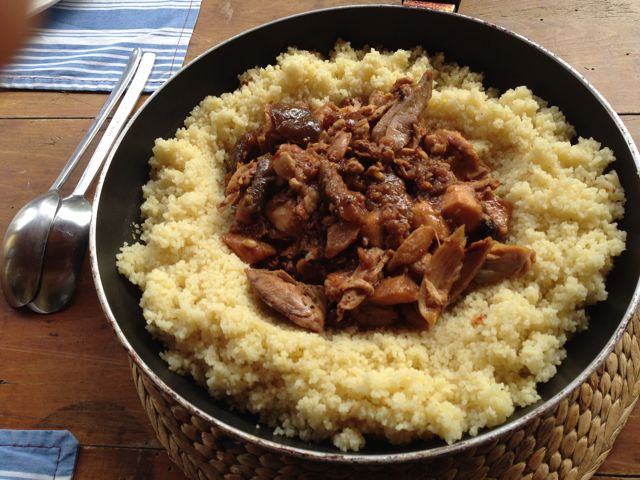 We have a lot of fruit in the orchard and it's been a bumper year for figs.
- melt some butter in a small pan and skim off the white impurities that come to the surface, these are the bits that can burn. The result is "clarified butter" but you can also use Ghee from India, which is the same thing.
- Mix the melted clarified butter with some honey and baste a guinea fowl all over. Season well. Place is a roasting pan. You can also use a small chicken.
- Cook in the oven at 180°. For a guinea fowl the total cooking time will be about 45 minutes, you will need longer for a chicken.
- 20 minutes before the end of the cooking time add the following mixture to the pan:
- peeled and chopped pears
- peeled and chopped apples
- roughly chopped walnuts
- quartered fresh figs
- some raisons and sultanas
- the bird should be golden brown when ready, with delicious crispy skin. You can serve as is, or carve the meat and serve with the fruit and couscous (photo right)

posted on: 30/10/2014 at 12:00 in category: [/cooking] with permanent link
---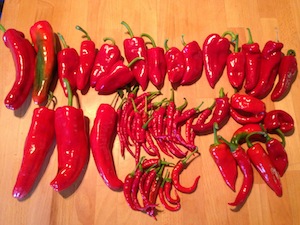 It's that time of year again. There are plenty more in the garden and we've got a bumper crop of figs this year.
posted on: 12/10/2014 at 10:30 in category: [/cooking] with permanent link
---
These are mostly very old songs re-recorded recently under conditions of live performance. Two bonus tracks are included, the No-Go day opus in it's full version and a gem from the Incredibles. Credits go to Neil Pointon for half the lyrics on Just My Kind, the middle bit of European Cowboy and inspiration for Von Kant. Neil actually rehearsed several of these reworked songs with me before disappearing off again on his bike, just when we were nearly ready to record. I hope he'll come back down off his Yorkshire Dale one of these days.
The collection is called Unshaven, because I started growing a beard, and the performance was really without any frills or overdubs. You will be pleased to know that the beard project was short lived.
posted on: 04/08/2014 at 22:22 in category: [/music] with permanent link
---


New Jouandassou website online: Jouandassou.com
posted on: 17/05/2014 at 12:27 in category: [/travel] with permanent link
---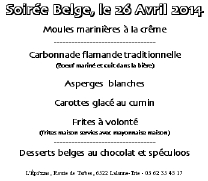 Moules marinières (mussels in creamy sauce)
----------------------------------
Traditional Flemish Carbonnade
(Marinated beef cooked in Belgian beer)

Apsaragus
Glazed carrots
Chips
(as many fried potatoes as you can eat
- served with mayonnaise - all home-made)
-----------------------------------
Desserts with Belgian chocolate
and speculos



posted on: 26/04/2014 at 20:45 in category: [/cooking] with permanent link
---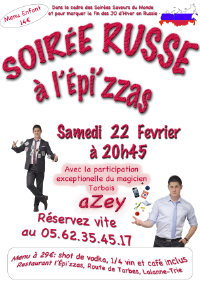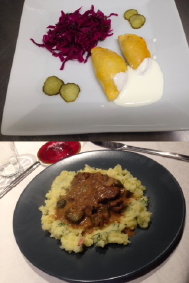 Bortsch
----------------------------------
Pirojkis (top right)
Stuffed with carrots/cabbage
and mushrooms/anchivies

Red cabbage salad
Sour cream
-----------------------------------
Beef Stroganoff (bottom right)

with
Potato and dill mash
Mustard sour cream
-----------------------------------
Blinis

with
Compote of apple and red fruit and Lemon mousse
-------------

Entertainment by aZey the Magician

posted on: 22/02/2014 at 20:45 in category: [/cooking] with permanent link
---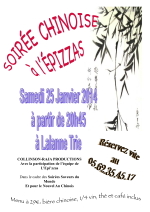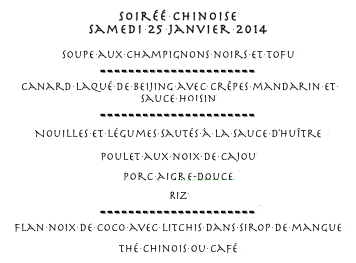 - Tofu and black mushroom soup
•••••
- Peking duck with pancakes and Hoisin sauce
•••••
- Sweet and sour pork
- Chicken with cashew nuts
- Stir fried vegetables with noodles
- Rice
•••••
- Coconut flan with lychees and mango syrup
- Sesamé crackers and fortune cookies
•••••
- Chinese tea, Tsingtao


posted on: 25/01/2014 at 20:45 in category: [/cooking] with permanent link
---