Pepper beef with Mediterranean vegetable gratin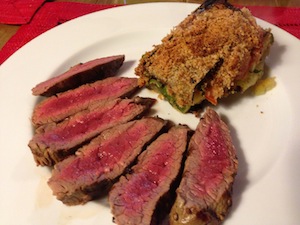 Further to my previous post, the Garonne burst it's banks and Bossòst is flooded. Incredible photos and images on the news, 400 people or more evacuated and some dead. If we had gone through there one day later, we would have been underwater.

The "merlan" is a long piece of tender beef from the top of the rump. It is called "merlan" because it looks like the fish of the same name (in French).

First the vegetables:
- grill thin slices of potato on the griddle, spray with a little oil
- grill thin slices of aubergine and courgette on the griddle, spray with a little oil
- make layers of cooked aubergine, potato, courgette and sliced tomato in an oven proof dish
- add plenty of parsley, garlic and salt at each layer
- cover with a mixture of breadcrumbs and parmesan cheese
- cook in a hot (210°) oven for 40 minutes.

Now the beef:
- Coat beef "merlan" in freshly ground pepper (lots)
- Place on a very hot griddle, keep turning until cooked.
- Slice thinly and place on dish.
- Serve with vegetable gratin.

posted on: 19/06/2013 at 18:14 in category: [/cooking] with permanent link
---