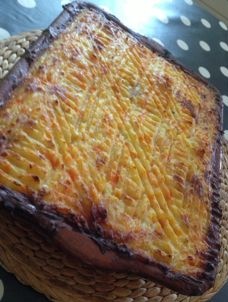 I obtained some chilli powder from Bolivia. I used it in this very interesting variation on Chilli Con Carne:
Chilli:
- Fry a chopped onion
- Brown some freshly minced beef
- Add some chilli powder, some garlic and a little ground coriander
- Add a large tin of peeled tomatoes (or some fresh chopped tomatoes) and one or two little squares of dark chocolate
- Simmer until the sauce thickens
- Add a tin of red beans
Topping:
- Boil some potatoes, carrots and sweet potato
- When soft, drain and make a mash, add a little butter and some grated cheese
Pie:
- Place the chilli in an ovenproof dish - Place a sliced tomato on top
- Cover with the mash and make some pretty patterns on top with a fork
- Cook in a hot oven until nicely browned on top
For those who are frightened of making a chilli that is too hot and spicy, you can substitute the chilli powder with sweet mild paprika. When serving put some tabasco or hot sauce on the table for those who like it "hot", and some do...
posted on: 24/05/2013 at 12:06 in category: [/cooking] with permanent link
---