Mille Feuilles of Boulgur and Quinoa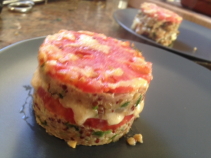 I purchased some cooking rings. They are really useful for making individual gratin portions ("rostis"), perfectly round fried eggs, and for making very pretty presentations on a plate. You can find them in most supermarkets now or buy them online at places like Tescos or even Amazon. They are very cheap. I am told you can also cut an opened tin can in half, but this sounds dangerous, beware of cutting yourself.
I have always like cooking with cereals, rice and couscous of course but also Bulgur, Quinoa, Barley and Millet. I made these little cereal and tomato moulds to accompany my chicken breasts stuffed with horn of plenty mushrooms with blueberry sauce
- Fry a chopped onion in a little oil.
- Add a mixture of quinoa and bulgur, salt, pepper and some stock to just cover
- Cook for about 10-15 minutes adding more stock if necessary. This method is identical to making a risotto. Different grains are available in different countries and require varying cooking times. You need to stop cooking when the cereals have absorbed all the liquid but are still a little "al dente".
- Allow the cereals to cool a little and add a lot of chopped parsley, or better, some chopped basil.
- Slice a large tomato, I used Coeur de Boeuf or "BeefHeart" tomatoes. Using your chef's cooking rings, cut out a circle from each tomato slice just the size to fit inside the rings.
- Grate some cheese, I used a mixture of freshly grated parmesan and goat's cheese but emmenthal or cheddar will also work.
- Add one or two eggs (depending on how many rings you are making) to the cooled quinoa/bulgur/parsley (or basil) mixture.
- Assemble your rings with a layer of cereals, a layer of grated cheese, a slice of tomato, a layer of cereals, a layer of grated cheese and topped with a tomato ring. Add any leftover grated cheese on top.
- Bake in a medium oven for 12-15 minutes.
- Place the rings on a plate and carefully lift them off. The eggs and melted cheese should have set the little "towers" which look just spectacular.
posted on: 06/05/2013 at 12:15 in category: [/cooking] with permanent link
---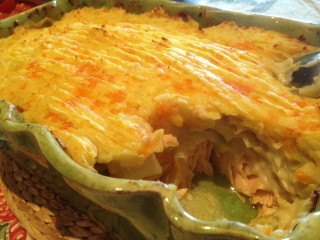 My mother used to make fish pie regularly, this recipe brought back childhood memories similar to that wonderful scene with the food critic in the movie Ratatouille.
- Chop two leeks and gently fry in some olive oil with a chopped onion.
- Peel and boil some potatoes and carrots, you can also add a turnip, a swede, or a sweet potato.
- Add a little water to the leeks if they start to stick to the pan
- When the leeks are soft add a large knob of butter to the pan.
- Sprinkle with flour and mix well. When all the lumps of flour are dissolved, add some milk and keep stirring until the sauce starts to thicken. Add plenty of nutmeg.
- If the leek/béchamel sauce is too thick add some more milk or a little cream.
- De-bone some fillets of fresh salmon and remove the skin. Actually any other fish would also be good.
- Place the fish in a deep baking dish, add pepper and sprinkle a little white wine over it, for added flavour.
- Pour over your leek/béchamel mixture.
- Mash the potatoes (and other vegetables if used) with a little butter.
- Spread the mash over the top of the fish and leeks. Make pretty patterns on the top with a fork.
- Bake in the oven at 200° for 25-30 minutes by which time the mash topping should have started to brown.

For me the best condiment to go with this fish pie is a generous dose of hot tabasco.
posted on: 06/05/2013 at 10:49 in category: [/cooking] with permanent link
---