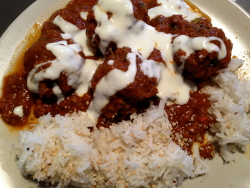 - Fry an onion in a wok using ghee (clarified butter available in dairy or vegetarian form in all Indian shops).
- Add some Indian curry powder (see elsewhere on this website) and fry for one minute until the aromas are released.
- Add two chopped tomatoes, some tomato paste and a little water, simmer gently.
- Mince some lamb.
- Blend one or two green chilli peppers, some curry powder, chopped garlic and ginger. Add a little tomato paste.
- Mix the spice paste with the lamb and some chopped coriander.
- Now put your hot tomato curry sauce into the blender and liquidize. Pour back into the wok and add some water.
- Using your fingers, form some small golf ball sized meatballs with the stick lamb mixture.
- Place the meatball into the tomato sauce and gently cook for about 30 minutes. Add more water if the sauce becomes too thick.
- Serve with rice sprinkled with grilled sesame seeds.
- Decorate meatballs with some more chopped coriander and some plain yoghurt.

posted on: 21/03/2013 at 11:55 in category: [/cooking] with permanent link
---