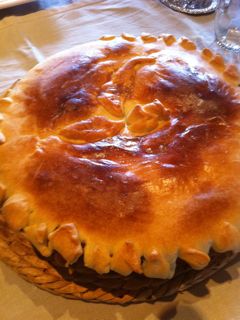 This pie was delicious and very easy.

- Fry some onions in olive oil.
- Add some bite sized chunks of meat and brown. I used beef cheek but any stewing steak will do.
- Add some chopped mushrooms and some flour and mix in well.
- Add a bottle of beer to almost cover.
- Cover tightly and cook on a low heat until the meat is tender. It can also be cooked in the oven on a fairly low heat if you prefer.
- Place in a pie dish. Put some slices of cheese (cheddar) on top of the meat stew and cover with puff pastry (home made is better, recipe may appear here soon).
- Brush with egg and cook in the oven until golden brown.
I served this with garlicky mashed potatoes.

posted on: 02/01/2013 at 11:05 in category: [/cooking] with permanent link
---