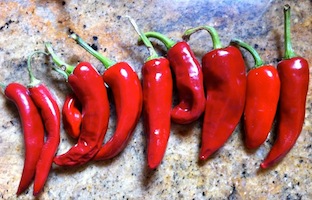 It's that time of year again. The chillies have been very successful this year.
We did Espelette, of course, but also some very hot and tasty long peppers which I used to make a Thai Green Curry paste.
- Just put the following ingredients into a food processor:
» fresh chillies
» garlic
» a large bunch of coriander, stalks and all
» a little kapi (Thai shrimp paste)
» honey or sugar
» a dash of sesame oil
» vegetable oil
» crushed lemon grass
» light soy sauce
» lime juice

Fry this paste in the wok with your curry ingredients, add coconut milk.
posted on: 25/09/2012 at 12:17 in category: [/cooking] with permanent link
---