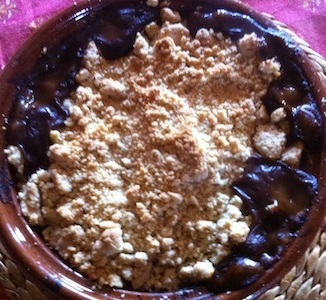 I cooked this variation of a classic English dish in my woodstove.
- Fry some chopped onions
- Add some bite-sized chunks of stewing beef and some chopped kidneys (clean them first).
- When brown add some cinnamon, mild paprika (or black pepper) and a little flour.
- Add tomato paste and red wine and keep stirring until the sauce starts to thicken.
- Put into a casserole dish and add more red wine or stock to nearly cover the meat. Cover and cook in a medium oven for an hour and a half or more.
- Mix some flour, butter and a little grated blue cheese until you get a crumbly mixture.
- Remove the casserole dish from the oven. Mix in some chopped mushrooms and cover with the crumble mixture.
- Put back into the oven (this time without the lid) for about 30 minutes until the crumble is brown.


posted on: 08/02/2012 at 17:40 in category: [/cooking] with permanent link
---