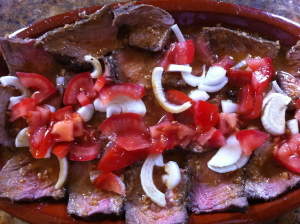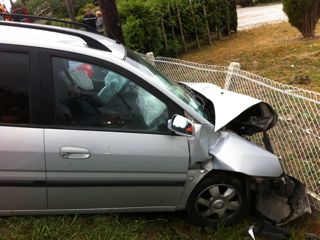 This is a variation on the Indonesian Beef salad that has already appeared here somewhere in the past.
- cook a nice tender piece of thick steak on the griddle. Let it cool.
- Slice into very thin strips.
- make a marinade with honey, peanut butter, ground chilli peppers, lime juice, thai fish sauce or soy sauce and a little oil.
- leave in the fridge for an hour or two, decorate with onions and tomatoes.

Meanwhile, had a car crash, car basically demolished. Airbags and seatbelts are most definitely good inventions. Driver coming in the other direction just lost control on a slippery road. It could happen to any of us.
posted on: 13/07/2011 at 14:24 in category: [/cooking] with permanent link
---