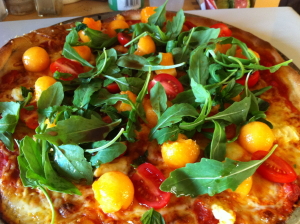 Inspired by Bruno our local pizza chef, and vice-champion of France, I made my own pizzas this week. This one worked out exceedingly well.
- make a pizza base. I use épautre or spelt wheat flour and a little regular flour, a little yeast, oil, salt, sugar and tepid water. Leave the dough to rest for a while, it becomes more elastic.
- roll out the pizza base very thinly, spread on crushed tomatoes and cover with mozzarella cheese. Cook in a very hot oven (wood stove or pizza oven is even better).
- place cherry tomatoes, and fresh melon balls on the cooked pizza.
- decorate with rockette salad and a little vinaigrette salad dressing.
Thinly sliced parma ham and buffalo milk mozzarella can also be added at the end to make a more "substantial" pizza. But the lightness of this simple "summer" pizza recipe is what makes it interesting.
posted on: 30/06/2011 at 19:11 in category: [/cooking] with permanent link
---