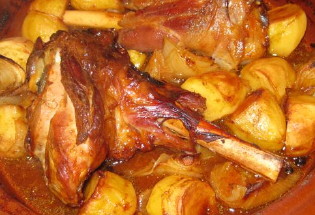 I do this one in the wood stove but, of course, you can do it in any hot oven. The "souris" is the bottom part of a leg of lamb, allow one per person. I already posted this recipe here a few years ago (see here) but this variation includes potatoes.

- place several souris (not mice, the souris is the little juicy bit around the bone at the bottom of a leg of lamb) in an earthenware dish (that can stand high heat)
- place some peeled whole garlic cloves in the dish, add some juniper berries, a chopped onion, some rosemary, some peeled potatoes and lots of salt and pepper
- pour beer (any kind) all over the lamb and fill to at least halfway up the dish, a little more as most of the liquid evaporates in the oven.
- place in a very hot oven for one hour, turning the meat halfway through cooking.

posted on: 13/06/2011 at 11:30 in category: [/cooking] with permanent link
---