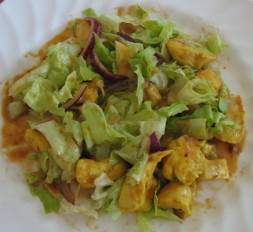 I must write here, one day when I have the time, about the ritual of picnics. We take picnics very seriously but the three essential items are pink champagne (very decadent), potato salad with tuna, and coronation chicken.

For those of you that don't know what Coronation Chicken is, then you can go to the wikipedia page here. This lunchtime I came up with a variation which turned out to be a delight:
- boil some chicken pieces in a broth made with chicken stock and curry powder (look here or here for curry powder recipes). Drain and allow to cool a little
- make a "quick" satay sauce in the blender with crunchy peanut butter, soy sauce, a crushed chilli pepper (or two), lemon juice and honey
- chop an apple and a red onion, mix in a serving dish with a little mayonnaise, lemon juice, cream, a large dollop of apricot jam and the satay sauce
- serve with shredded lettuce

This dish can be served as part of a picnic, a starter or a summer main dish and even as a sandwich filler (in this case chop the chicken bits quite small).
posted on: 07/06/2011 at 12:32 in category: [/cooking] with permanent link
---