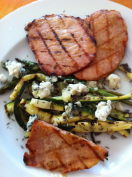 This is incredibly easy to do on the plancha.

For those of you that don't know, a "plancha" is a thick cast iron plate that you heat up on the stove. You can grill practically anything on it. Mosts planchas have a flat side and a ribbed side, for this recipe I used the ribbed side which give the meat that criss-cross design you see in the picture.

Slice your vegetables into ribbons, I used green asparagus and courgettes but you could also use aubergines or peppers. Toss the vegetables in some olive oil and grill on the plancha turning frequently. Actually this way of "searing" the vegetables really gives them flavor.

When the vegetables are nearly ready grill the thin slices of pork on both sides.

Toss the warm vegetables in a vinaigrette made with honey, mustard, balsamic vinegar and olive oil. Serve with the grilled meat and decorate with thyme, rocksalt and some crumbled goats cheese or gorgonzola.
posted on: 03/05/2011 at 19:22 in category: [/cooking] with permanent link
---