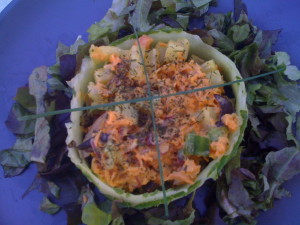 I invented this starter for Sunday lunch this week. I confess it was a little inspired by the crab mousse with smoky ham wafers which I tasted at Les Quatre Saisons restaurant in Sarlat la Caneda (photo right).

For my version I used diced smoked salmon, shredded carrots, chopped red onion and cucumber chunks. Mix all these ingredients in a light mayonnaise with added mustard, lots of dill, olive oil and lemon juice.

First, make some ribbons of cucumber with a potato peeler, as long as possible along the whole length of the cucumber. Wrap these around a yoghurt pot (or anything round, you can find special stainless steel rings in some professional cookery shops which, obviously, is the best and can be used for all sorts of other recipes), three or four ribbons per plate, to make some round cucumber "crowns". Fill with the salmon and carrot mixture and decorate as you want.
posted on: 29/09/2009 at 10:07 in category: [/cooking] with permanent link
---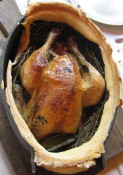 This is a recipe that I think originally came from Jean-Baptiste Reboul's book La Cuisinière Provençal written in 1910. If you can find this book anywhere, buy it. It starts with a whole chapter on the concept and theory of Pot au Feu.

This is dead easy. You need a cast iron of earthenware pot with a lid. Start by placing 40 or 50 unpeeled cloves of garlic in the bottom of the pot with a little olive oil. In French we call this "ail en chemise", garlic with its shirt on. Separate the cloves from the head of garlic but do not peel them. And yes, I said forty or fifty cloves of garlic, more if you want.
Place a chicken (with some lemon slices inside the cavity) on top of the "pearly bed" of garlic and place the pot under a hot grill in the oven (without the lid on) - this serves to brown and crisp the chicken on top.
While your chicken is getting crisp under the grill (just a few minutes) mix some flour and water to make a bread dough. Remove the pot from the oven when the chicken is nicely browned, stuff all the fresh herbs you can find around the chicken (rosemary, sage, parsley, thyme, basil, whatever you've got), add some salt and pepper, and place the lid on the pot. Seal the lid hermetically onto the pot with the bread dough all around the joint and place back in the oven (normal oven settings, switch off the grill) at 160 degrees for 1 hour and a half or two hours, more for a big chicken. The idea is to cook everything slowly inside the sealed pot and enable the garlic cloves to stew in the juices.
Bring the pot onto the table and break open the bread dough around the lid to release the fabulous aroma of garlic and herbs when you open the pot. The stewed garlic cloves pop out of their peel like butter, spead onto country style bread and eat with the chicken.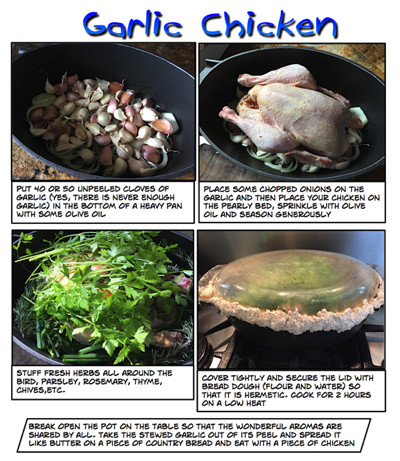 posted on: 27/09/2009 at 18:22 in category: [/cooking] with permanent link
---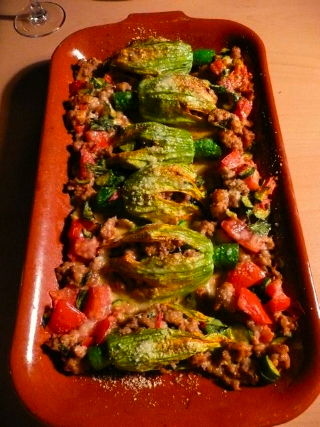 This is a tricky recipe because the flowers are very delicate and you must be very careful not to damage them.
You have to choose very fresh baby courgettes. Wash the courgettes and flowers in cold water and carefully dry them with kitchen roll. There is a debate about removing the pistils inside the flowers or not: personally I remove them because this allows more space for the stuffing.
Dice the baby courgettes leaving about 2cm on the flowers. You can leave the whole baby courgette with the flower but in this case you need to cook everything a little longer in the oven (unles you like your courgettes al dente.
Prepare your stuffing. I make a sausage meat stuffing and add the diced courgettes but you can use your imagination here (blue cheese and hazelnuts is quite a good one). Bind your cooked stuffing with an egg and add lots of fresh basil.
Delicately stuff the flowers and lay them on an oven dish. Add a couple of diced tomatoes to the remaining stuffing and surround the flowers with the mixture. Sprinkle parmesan cheese on top, cover with tin foil, and cook in the oven at 180 degrees for 20 minutes.

posted on: 09/09/2009 at 08:25 in category: [/cooking] with permanent link
---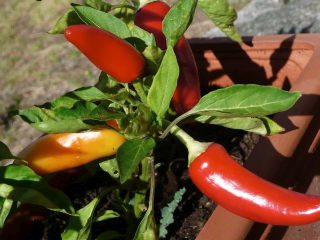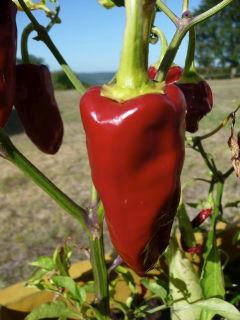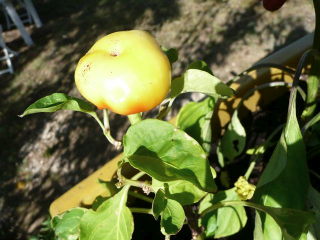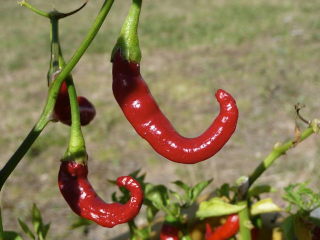 This years chillies are coming along well. From left to right: Jamacian yellow, Espelette, Hongarian goulasch, Cayenne


posted on: 04/08/2009 at 15:32 in category: [/cooking] with permanent link
---
Mythical 70's rock band re-unite in secret Périgord hideaway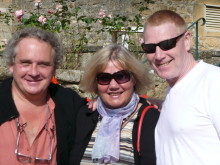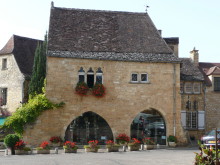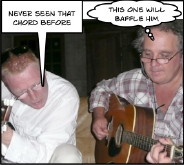 Who would have thought that Domme, this sleepy Perigord village in deepest Dordogne, would be the venue for the long awaited reunion of the surviving members of the mythical rock band the Bros and the Sissies. An on-the-spot report from our beautiful French reporter Christine Froggy:

Despite being a little overweight and appearing slightly worn out after the years of drug abuse, alcoholism, mental institutes and rehab clinics, the Bros and Sissies are still going strong in a sleepy village in South West France. Leading duo, Captain Nikos and Colonel Obnoxious (photo right) play regularly here with their erstwhile drummer and backing soprano Marion "and here's to you Mrs" Robinson.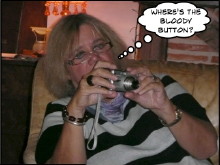 The band still perform their eclectic mixture of Bob Dylan songs (they still can't remember all the lyrics), Jethro Tull (they still can't remember all the chords), Leonard Cohen (they can remember neither the chords nor the lyrics) and the occasional original hit tune from their 70's repertoire, including "When I was Drunk the other Day.." and "Song for Petra von Kant". "Of course it's not the same without Martin" says Colonel Obnoxious referring to band mentor Martin Zero who died from a beer overdose while watching football on TV in the early 90's. The Colonel, now in his late 60's, is just recovering from his 19th session in rehab and his 22nd year without beer.

Captain Nikos agrees "Martin Zero was an inspiration to all of us, we miss him dearly". Nikos, still looking very handsome for his 40 something age, now runs a cookery internet business in France and has the occasionally snog with the author if this article.

Marion "Mrs" Robinson has given up the drums but she can still take photos (see left) and she even listens to Bob Dylan on her iPod. The band are currently recording their 23rd album but have yet to find a record company deal.
posted on: 02/08/2009 at 14:30 in category: [/music] with permanent link
---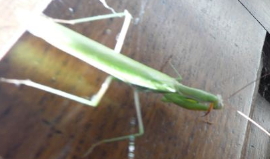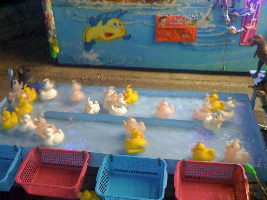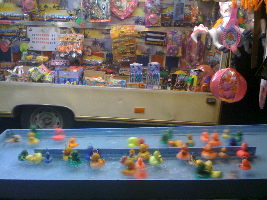 More monsters in the house, this one is a mantis of some kind, praying or not.

The fête in our local village St Sozy lasted three days, non stop party. The "fishing for ducks" stands were particularly interesting. Also this weekend, the Gramat country music festival, great fun. See details here


posted on: 24/07/2009 at 21:13 in category: [/travel] with permanent link
---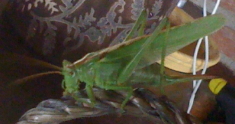 This monster has invaded our kitchen, can't get rid of him. He just keeps getting back into the house somehow - and he bites!!!

Got some real fan mail for my multimedia universe blook which can be experienced here, elsewhere on this website. This has encouraged me to continue steaming through Volume 2 which will have some new songs and more intrigue, but if anyone out there has some ideas about how to make money with this kind of thing, PLEASE LET ME KNOW....

posted on: 23/06/2009 at 21:13 in category: [/travel] with permanent link
---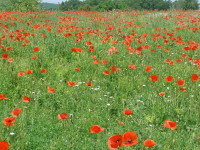 Well it almost feels like summer. We've planted the herbs and chilli peppers. The field is full of poppies, its like a painting.

Our biker friends called us last night and said "we are not far from you, can we come for lunch?". "No problem" I said, "How many of you?". "27!!!". Gulp! So we made a barbecue for twenty seven Harley Davidson bikers and had a great time. The bikes made a lot of noise and the neighbours were sufficiently impressed.
posted on: 22/05/2009 at 19:43 in category: [/travel] with permanent link
---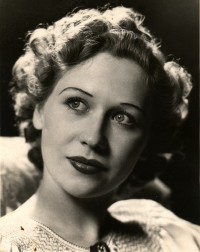 Been going through my mothers scrap book, fascinating stuff

She was Miss Paramount sometime before the Second World War and appeared in some films produced by Adolph Zukor. The war disrupted her movie career and she subsequently lied about her age practically all her life, going to great lengths to destroy any evidence of her real year of birth. So the dates are uncertain, it must have been 1937 or 1938.
At some stage there was an exhibition in London and my Grand Father must have come over from Malaya to organise the Malayan Pavilion.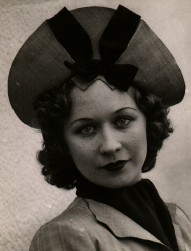 Here is one of the rather amusing newspaper cuttings that I found:
"Among the palm-nuts and pinapples of the Malayan Pavilion at the Exhibition will be found this young lady. She is Miss Rena Sands, of Richmond Surry. At 19 (?) her career has already been vivid enough - actress, model, mannequin, traveller. In films she played with Merle Oberon in "Over the Moon." She was one of the exclusive band of Grosvenor House showgirls. When Adolf Zukor, movie czar, visited England, Rena Sands was chosen as Miss Parmount. Her father Mr W. N. Sands, also at the Pavilion, represents Malay. Rena had six years in that country, speaks the language, and, at the Information Desk, knows all the answers."

Another cutting says:
"I took a friend just home from Malacca, into the Malayan Pavilion to sign the visitors' book. Pretty Miss Sands, whose father is in charge of the Pavilion, said a few words in the Malay tongue. My friend replied. The competition was too great for me, so I retired and left them to it, but not before I had noticed that Ivor Novello and Victor MacLagen had also discovered the most beautiful exhibit in the Malayan Court."
posted on: 23/01/2009 at 10:23 in category: [/magick] with permanent link
---