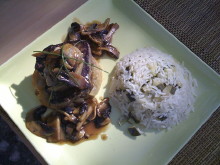 Tournedos Rossini is a classic recipe but every chef has his own version.
Here is mine:
- first the foie gras topping: the best is a fresh foie gras which you cut into small escalopes, one thin slice per steak. You fry the escalopes just a few seconds in a very hot frying pan without any oil. Set them aside on a warm plate.
- if you don't have fresh foie gras, use a thin slice of foie gras entier out of a jar, there is no need to cook it, just place on top of each steak in the pan (see below), it will warm through when you cover the pan. However you will need a little duck fat in the frying pan to start as follows.
- now fry some slices of French country bread in the juices that the foie gras has left in the frying pan. Fry until lightly crisp and set aside with the escalopes.
- now fry the tournedos steaks in the same pan. Add lots of pepper.
- turn the steaks when cooked on one side and place a piece of foie gras on top of each, add sliced mushrooms to the pan. Add a touch of cornflour dissolved in some warm water (this absorbs the duck fat) and some Madeira (or any other cooked wine, the quantiy depends on the number of tournedos steaks and the size of the pan).
- Cover the frying pan and cook for a couple of minutes until the steaks are cooked through, the mushrooms cooked and the sauce starts to thicken (cooking time depends a little on how you like your steaks)
- place a slice of fried country bread on the plate, add the cooked steaks with their foie gras topping on top and pour over the mushroom/Madeira sauce.
- Serve with rice cooked with some chopped courgettes, or a potato gratin.
posted on: 26/09/2008 at 13:53 in category: [/cooking] with permanent link
---