Rindercella and her sugly isters

Some polemic about the origins of this one.
Some say it was originally shown on BBC TV, back in the seventies - apparently, Ronnie Barker could say all this without a snigger. If this is true, it is hard to believe that the BBC received not one complaint and several Ronnie Barker fans have e-mailed me saying he never would have performed this.
The true origins are documented at matthewgoldman.com where you can find several versions including transcripts and MP3s. It seems that the original version comes from a Colonel Stoopnagel, his version can be found here: fun-with-words.com
Try getting through it without converting the spoonerisms as you read;

This is the story of Rindercella and her sugly isters.
Rindercella and her sugly isters lived in a marge lansion.
Rindercella worked very hard frubbing sloors, emptying poss pits, and shivelling shot.
At the end of the day, she was knucking fackered.
The sugly isters were right bugly astards. One was called Mary Hinge, and the other was called Betty Swallocks; they were really forribl huckers; they had fetty sweet and fetty swannies.

The sugly isters had tickets to go to the ball, but the cotton runts would not let Rindercella go.

Suddenly there was a bucking fang, and her gairy fodmother appeared.
Her name was Shairy Hithole and she was a light rucking fesbian.
She turned a pumpkin and six mite wice into a hucking cuge farriage with six dandy ronkeys who had buge hollocks and dig bicks

The gairy fodmother told Rindercella to be back by dimnligh otherwise, there would be a cucking falamity.
At the ball, Rindercella was dancing with the prandsome hince when suddenly the clock struck twelve.

"Mist all chucking frighty!!!" said Rindercella, and she ran out tripping barse over ollocks, so dropping her slass glipper.

The very next day the prandsome hince knocked on Rindercella's door and the sugly isters let him in.

Suddenly, Betty Swallocks lifted her leg and let off a fig bart.
"Who's fust jarted??" asked the prandsome hince.

"Blame that fugly ucker over there!!" said Mary Hinge.

When the stinking brown cloud had lifted, he tried the slass glipper on both the sugly isters without success and their feet stucking funk.
Betty Swallocks was ducking fisgusted and gave the prandsome hince a knack in the kickers.

This was not difficult as he had bucking fuge halls and a hig bard on.
He tried the slass glipper on Rindercella and it fitted pucking ferfectly.
Rindercella and the prandsome hince were married. The pransome hince lived his life in lucking fuxury, and Rindercella lived hers with a follen swanny.
posted on: 05/12/2008 at 17:37 in category: [/humour] with permanent link
---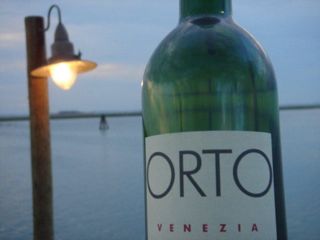 This is the wine from Venice where I went grape picking earlier this year

The 2008 vintage is obviously not bottled yet, but I drank some 2006 and 2007 just last week in Paris, accompanied by a delicious topinambour (Jerusalem artichoke) soup with truffles. I'll try to get the recipe from the lovely cook Emmanuelle Jary who, among other things, writes food and travel articles for people like Air France magazine (see here) and is a truffle expert.

The Orto di Venezia wine website is now up on line in three languages. You can find out all about this exceptional wine and find out where it is available. Any restaurants wishing to carry this wine on their winelist can send a request from the contact page on the website. The address is www.ortodivenezia.com.

Meanwhile back in French truffle country myself (no truffles yet, they come early in the year), I have finally got my ancient motorbike fixed with considerable difficulty and various spare parts purchased on eBay (6 volt lamps and coil, new saddle, brake cable). I went to Rocamadour yesterday in glorious sunshine (though it was a bit cold) and the bike works fine despite struggling a little on some of the steep hills. I nevertheless got up to 90km/h on a straight (ok, slightly downhill) piece of road. I will post photos and more about this antique vehicle at some stage in the future.


posted on: 14/11/2008 at 10:12 in category: [/cooking] with permanent link
---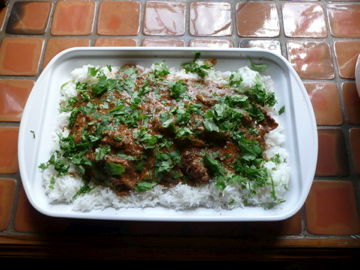 Finally getting around to posting some more of my recipes, here is a classic Indian curry which I mentioned in a previous post last year

The secret with all Indian curries is to freshly grind all your spices.
For this recipe I used cardomone, cinnamon, cloves, chilli peppers, cumin seeds and poppy seeds ground up and then made into a paste with some garlic cloves and fresh ginger.
- fry some onions in a wok (or large pan)
- add some diced lamb, I use a saddle or shoulder for this, a leg of lamb is also good but more expensive of course. Brown the meat
- Add the spice paste and coat all the ingredients well, avoid that the spice burn so lower the heat
- Add some chopped tomatoes then slowly stir in some natural yoghurt
- Cook on a low heat for 45 minutes or more, until the lamb is tender
- Serve on a bed of rice and garnish with plenty of fresh coriander

posted on: 09/10/2008 at 19:58 in category: [/cooking] with permanent link
---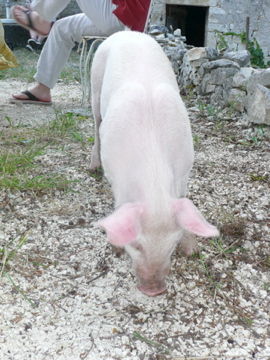 This is our neighbour's pig, Lolita

I feel somewhat guilty in putting this wonderful animal in the cooking section of this website but I fear she will inevitably end up on our dinner table one of these days
She has a little house under an oak tree, she eats acorns and all sorts of other stuff, and she makes a lot of noise.
But she is very domesticated, she has taught herself how to open the front door so she comes into the house from time to time to have a chat(or rather an oink) with the dog.
Has a brush with a wild boar last night coming home in the dark? Huge animal but fortunately no damage, just lots of mud on the front and side of the car
The thought did cross my mind, maybe Lolita might like a husband?
Does that work????


posted on: 04/10/2008 at 19:32 in category: [/cooking] with permanent link
---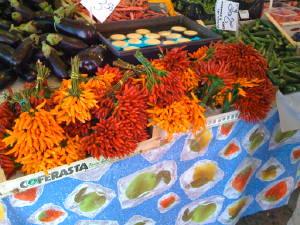 This is a nice photo of chillies from the market in Venice, sadly no fish though as it was Monday.

Nothing whatsoever to do with chillies, one of the more pleasant encounters of the Venice trip this time was the cook Pamela who made us the most delicious pasta (her seafood pasta was especially memorable) and numerous other "mediterranean" dishes.
Pamela's Parmesan Aubergines (Melanzane Alla Parmigiana) was one of the highlights. Here is her recipe:
- coat some aubergine slices in flour and fry them in some olive oil, set aside.
- in a baking dish, assemble layers of tomato sauce, parmesan cheese (freshly grated, not that awful stuff out of a packet), fried aubergines, mozzarella cheese and parma ham.
- repeat process for three or four layers depending on the size and depth of your baking dish.
- Top with grated parmesan.
- Cook in a hot oven for 30-40 minutes until lightly browned and cooked though.

posted on: 30/09/2008 at 11:27 in category: [/cooking] with permanent link
---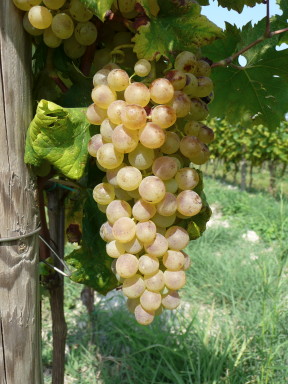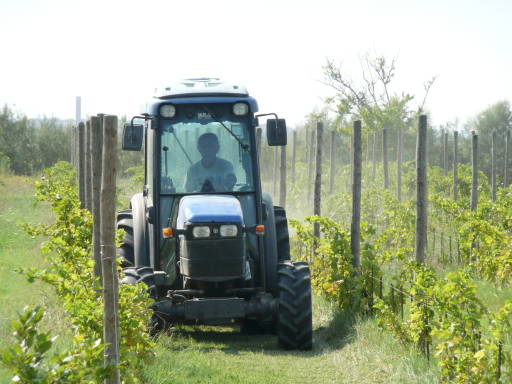 Been grape picking again in Saint Erasmus, an island in the Venice lagoon.
See here for previous post
A wonderful cook, Pauline, made us pasta with vegetables and seafood from the lagoon every day, the mediterranean diet is especially interesting, methinks.
Went swimming in the lagoon, surprisingly clean seawater despite what people say, the lagoon is cleaned twice a day by the tide.
And vaporetto number 13 is always perfectly on time.
Grape picking does, however, seriously hurt your back and legs, the need to get healthy again is becoming a real priority.
For more details click here.


posted on: 28/09/2008 at 08:08 in category: [/travel] with permanent link
---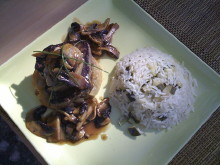 Tournedos Rossini is a classic recipe but every chef has his own version.
Here is mine:
- first the foie gras topping: the best is a fresh foie gras which you cut into small escalopes, one thin slice per steak. You fry the escalopes just a few seconds in a very hot frying pan without any oil. Set them aside on a warm plate.
- if you don't have fresh foie gras, use a thin slice of foie gras entier out of a jar, there is no need to cook it, just place on top of each steak in the pan (see below), it will warm through when you cover the pan. However you will need a little duck fat in the frying pan to start as follows.
- now fry some slices of French country bread in the juices that the foie gras has left in the frying pan. Fry until lightly crisp and set aside with the escalopes.
- now fry the tournedos steaks in the same pan. Add lots of pepper.
- turn the steaks when cooked on one side and place a piece of foie gras on top of each, add sliced mushrooms to the pan. Add a touch of cornflour dissolved in some warm water (this absorbs the duck fat) and some Madeira (or any other cooked wine, the quantiy depends on the number of tournedos steaks and the size of the pan).
- Cover the frying pan and cook for a couple of minutes until the steaks are cooked through, the mushrooms cooked and the sauce starts to thicken (cooking time depends a little on how you like your steaks)
- place a slice of fried country bread on the plate, add the cooked steaks with their foie gras topping on top and pour over the mushroom/Madeira sauce.
- Serve with rice cooked with some chopped courgettes, or a potato gratin.
posted on: 26/09/2008 at 13:53 in category: [/cooking] with permanent link
---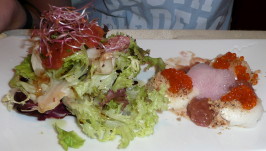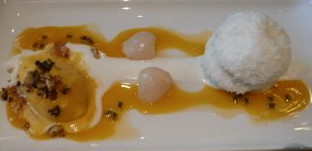 More photos from El Portalet, Bossost on the edge of the Catalan Pyrenees, Spain (Val d'Aran).

posted on: 03/08/2008 at 09:40 in category: [/cooking] with permanent link
---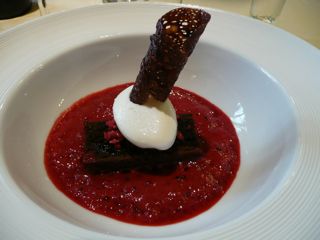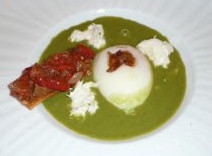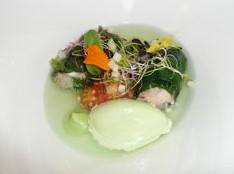 This is an absolutely fabulous restaurant in Bossost in the Spanish Pyrenees where I have been going for years. Very inventive, regularly changes the menu and fantastic value for money. In Bossost, cross the bridge across the Garonne and turn right, El Portalet is down at the end of the street, there's a car park. For a food critics review and links see here.

posted on: 03/08/2008 at 09:32 in category: [/cooking] with permanent link
---
Bar Restaurant for sale in Dordogne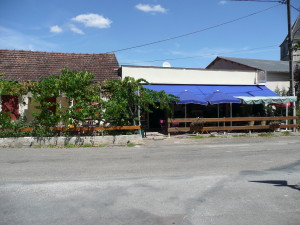 Charming bar/restaurant business for sale in a pittoresque Dordogne village. 100 places inside and 60 or more on the shady terrace. New international airport being built nearby (25kms) and plenty of potential to expand the business (breakfast, dinners, theme evening catering to the local British population).

Local custom all year round and plenty of tourists in the summer season, especially British and Dutch.

Would suit a couple looking to escape to the sun and live a healthy life in a beautiful part of France.

School in the village, shops and all ameneties 10kms away. Licence IV liquor licence and friendly charming village.

For more details click here.


posted on: 02/08/2008 at 16:58 in category: [/travel] with permanent link
---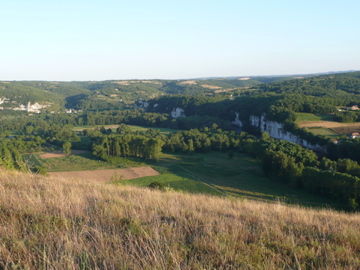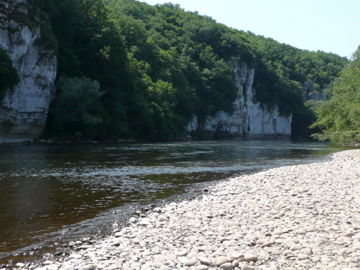 This is the view just down the hill from our house in the Lot, the Dordogne valley looks different every day. It a beautiful part of France.
And on the right is a photo of our "beach", there is even some sand and swimming in the current is really fun.
There is a small chateau on the top of the cliff overhanging the Dordogne river and the story goes that Brad and Angelina landed there is a helicopter once and asked the owner if they could visit his chateau with a view to buying it - he told them (with a shotgun) that they were trespassing and had no right to land their helicopter on his lawn. They quickly departed. I hear they bought Johnny and Vanessa's place down in Provence instead.



posted on: 14/07/2008 at 19:43 in category: [/travel] with permanent link
---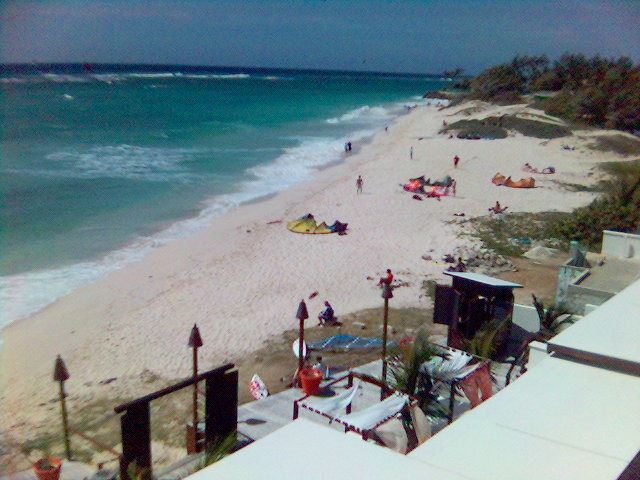 I'm back.

I've been in America, well Los Angeles for a while but then Maui. Hung out with my friends Branscombe Richmond and Mick Fleetwood. Strange place though, its America under the tropics. It was whale mating season, whales jumping just near the beach and turtles swimming everywhere too. Terrible traffic and they drive very badly, saw 4 road accidents, a couple of bad ones.

Anyway coming through Atlanta on my way back to Paris, I see my Paris flight on the departure board and just underneath it there was a Delta airlines flight to Barbados. Can I change my ticket? Yes sir, $480 return, I just couldn't refuse and here I am in Barbados waiting to get the little plane to Bequia in de mornin'.

Bequia is of course where all this began and I'm pleased to go back, although many problems await me there, land tax, neighbour building house of the road up to my land, expired passport to be renewed. But this is the West Indies....

...More soon
posted on: 01/03/2008 at 10:35 in category: [/travel] with permanent link
---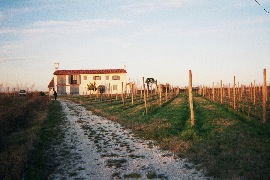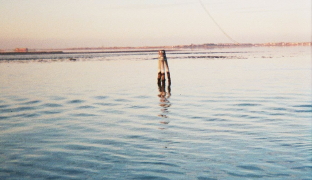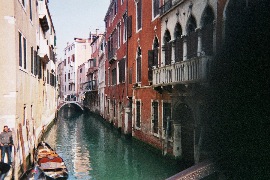 This is the vineyard on St Erasmus (take vaporetto number 13 to get there). The Venice lagoon and a canal. For more carnaval photos see here.

posted on: 01/02/2008 at 19:43 in category: [/travel] with permanent link
---