From Grasse through the Cevennes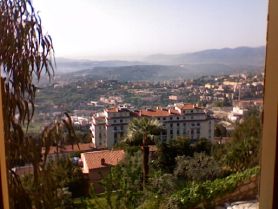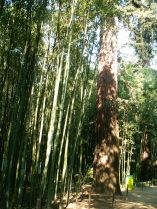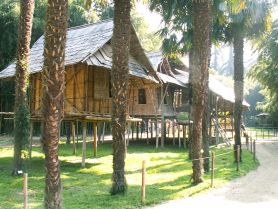 Leaving Grasse (view from window above), I drove my Hertz BMW 4 wheel drive armoured assault vehicule past Marseilles and up into les CÄvennes to visit La Bambouseraie, an incredible bamboo park and forest.
Beautiful part of France.
posted on: 03/05/2007 at 13:17 in category: [/travel] with permanent link
---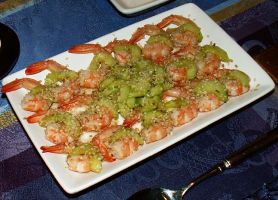 Still rushing around. Stayed in very nice Chambres d'Hotes in Grasse near Cannes, the villa Coste d'Or.

Hertz very kindly upgraded my hire car, instead of an Opel Corsa I got a huge BMW assault tank which guzzled fuel faster than I could fill it up.

Japanese birthday dinner included this shrimp dish
- boil some shrimps for 2 minutes, drain and plunge into cold water
- peel shrimps leaving the tail on
- marinate in a mixture of rice vinegar, soy sauce, sugar, sesame oil finely chopped ginger and garlic
- add some finely sliced and peeled cucumber to the marinade
- serve sprinkled with sesame seds

Japanese chicken with seaweed
- Marinate small chicken pieces in the above marinade mixture
- Drain and roll in a mixture of cornflour and finely chopped Nori (Japanese seaweed used for making sushi)
- Fry in a little oil in the wok until chicken pieces are nice and crispy.

posted on: 03/05/2007 at 12:23 in category: [/cooking] with permanent link
---