Rabbit with three mustards and two corianders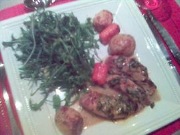 Very strong winds yesterday, warm and dusty, the poor dog nearly got blown off his feet. Still no winter to speak of.
I found some rabbit breast at the local butcher and this experiment turned out rather well:
- mix together strong dijon mustard, whole grain mustard and mild yellow mustard with some ground coriander seeds, chopped coriander leaves and lemon juice
- generously coat the rabbit breasts in the mustard mixture
- place in an ovenproof dish and pour over some madeira
- cook in a hot oven for 45 minutes
- serve with roast vegetables and roquette salad sprinkled with a little mustard sauce made by adding a little more lemon juice and some olive oil to the remaining mustard marinade
Sorry about the terrible photo, no batteries in the camera so I took it with the mobile phone.
posted on: 15/02/2007 at 08:51 in category: [/cooking] with permanent link
---