Delicious contribution from Nicki Dennis

- 2 tablespoons unsalted butter
- 2-3 teaspoon cayenne pepper
- 2 cups uncooked small macaroni (elbows, orecchiette, penne etc.)
- 1 cup + 2 tablespoons grated sharp yellow cheddar cheese
- 2 cups milk
- 1 cup + 2 tablespoons grated sharp white cheddar cheese
- 5 tablespoons all-purpose flour
- 2 cups + 2 tablespoons grated Parmigiano/Reggiano cheese
- 2 teaspoon salt
- 8 scallions, white and light green part only, thinly sliced
- 3 teaspoon pepper
- 4 oz. fresh goat cheese

Heat oven to 375 degrees. Lightly butter a 2 quart casserole. Set aside.
Cook macaroni according to package directions. Drain, rinse with cold water to stop the cooking process and set aside.
Warm the milk in a saucepan until small bubbles form around the sides.
Melt the butter in a large, heavy pot over low/medium heat. Whisk in the flour and cook over low heat for 2 to 3 minutes to cook the flour being careful not to let it brown. Continue to whisk continuously while gradually adding the heated milk. Cook over low/medium heat for 6-8 minutes whisking occasionally. The sauce will be fairly thick and very smooth.
Remove from the heat and add salt, pepper and cayenne. Cover to keep warm.
Reserve 2 tablespoons each yellow and white cheddar and Parmesan cheeses and set aside.
Add the remaining yellow and white cheddars and the Parmesan cheese to the warm white sauce and stir well to combine. Add the macaroni and stir gently to incorporate. Stir in most of the scallions reserving a few pieces for garnish.
Cut the goat cheese in to 1 inch pieces and gently fold into the macaroni/cheese mixture being careful not to break the macaroni.
Transfer the mixture to the casserole, top with the reserved cheese and scallions.
Bake until golden brown and bubbling, approximately 30 minutes.
posted on: 28/10/2007 at 11:26 in category: [/cooking] with permanent link
---
My friend sold his house in Key West (see previous post here).

But he has another one for sale

This rather unassuming property consists of two houses and one cottage with six en suite bedrooms and seven baths. Built circa 1873, the historic main house features a peerless restoration, with details such as polished hardwood floors, original windows, and doors restored. A veranda, overlooking the swimming pool and lush grounds, is carefully built around an ancient Spanish lime tree. A galley kitchen includes stainless-steel counter tops and appliances, with custom cabinets. This historic gem is a classic example of the casual, yet elegant indoor and outdoor living lifestyle for which Key West is famous. Click here if you are interested and want more details.
posted on: 25/10/2007 at 19:38 in category: [/travel] with permanent link
---
Contribution from Perry Taylor at la baguette magique

Preheat the oven to 200-220C
Have a baking tray large enough for the chicken and some roast potatoes. Wash your hands and the chicken well.
Take the chicken and, beginning at the neck end, carefully slide your fingers under the skin of the breast. Slowly lift the skin of the breast and legs from the meat. Be careful not to tear the skin.
Now mix the following in a bowl:
1 garlic clove, crushed
6 tablespoons of creme fraiche
2 tablespoons of Dijon mustard
2 teaspoons of lemon juice
a handful of tarragon leaves (fresh or dried)
salt and freshly ground pepper

Mix well and spoon into the cavity between the skin and flesh of the breast, Massage the sauce under the skin to spread down over the legs. (You have to set the chicken on its end to pour in the sauce, so a second pair of hands is handy).
Use a cocktail stick or two to close off the skin at the neck to stop too much sauce escaping during cooking. Stick the squeezed lemon in the other end and place on the middle shelf of the oven. Cooking time depends on the size of the chicken, but 50 to 60 minutes should do it. Lay aluminium foil over the chicken for the first half hour to stop the sauce from burning under the skin.
Let the chicken rest for five minutes. Meanwhile, you can make a superb gravy from the leaked sauce and chicken juices.
Serve with young carrots and peas, potatoes or rice. A real Sunday dinner recipe!

posted on: 24/10/2007 at 15:14 in category: [/cooking] with permanent link
---
2 onions chopped, sauteed in butter
125gr bacon
100gr cheddar cheese grated
1thsp. mustard
1 spoon flour
2 eggs
250 ml milk (1 cup)
1 thsp parsley chopped
salt pepper

Beat eggs into flour, mustard and milk. Add all the ingredients and mix well. Pour into greased 23cm pie dish. Bake at 180 degrees 30 min. No pastry needed it sets as it is.
posted on: 15/09/2007 at 12:45 in category: [/cooking] with permanent link
---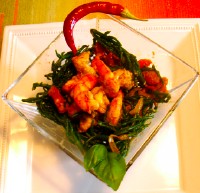 We used to collect samphire when I was a boy on holiday in North Norfolk, it's a kind of seaweed (I think) that grows in the sand when the tide goes out and it has a very special salty taste.

Anyway I came across some at the fishmongers yesterday and cooked it as follows with some fresh shrimps:
- fry an onion (chopped) in a wok
- boil the washed and trimmed samphire in boiling water for 5 minutes
- add some home made curry paste to the fried onions (I ground up some dried coriander seeds, cardomon, chillie pepper and cinammon then addes a garlic clove and some fresh ginger to make a paste)
- add shelled shrimps
- stir fry for a few minutes
- added two diced tomatoes and some sour cream made from fromage blanc, fresh cream and lemon juice
- add the cooked samphire and continue until everything is cooked through (if the wok is as hot as it should be this is just a minute or two)



posted on: 24/08/2007 at 11:16 in category: [/cooking] with permanent link
---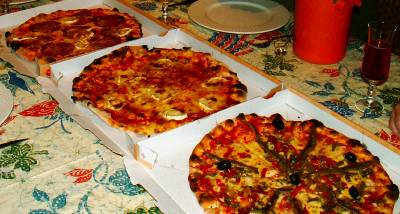 As promised in a previous post here are some pizzas from our new local take-away. Goats cheese and honey, peppers and anchovies, coppa and cheese. Mmmmmm........



posted on: 23/08/2007 at 20:13 in category: [/cooking] with permanent link
---
Broccoli and Beef in Oyster sauce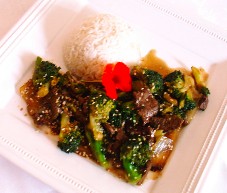 - steam some broccoli heads for just a few minutes
- fry an onion (chopped) in a wok
- add some very finely chopped fillet steak and brown
- add parboiled broccili
- add some chili pepper, ginger and ground coriander seeds
- add some soy sauce and oyster sauce and continue until everything is cooked through (if the wok is as hot as it should be this is just a minute or two)

Meanwhile it's hot down here, 5 days of village party starting tomorrow terminating in the middle of next week with a horse race where we can actually place bets, activity which funnily enough is becoming rather a hobby of mine, so far I am ahead of the game financially but how long will it last?

Back on the subject of cooking, the local pizza shop installed a real pizza oven from Italy, they even drove all the way here from Italy to install it. The marinated ostrich meat and foie gras pizza is especially memorable, but more of pizzas in a future post (passionate topic close to my heart).

posted on: 04/08/2007 at 01:39 in category: [/cooking] with permanent link
---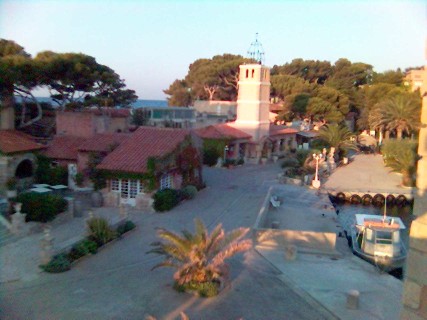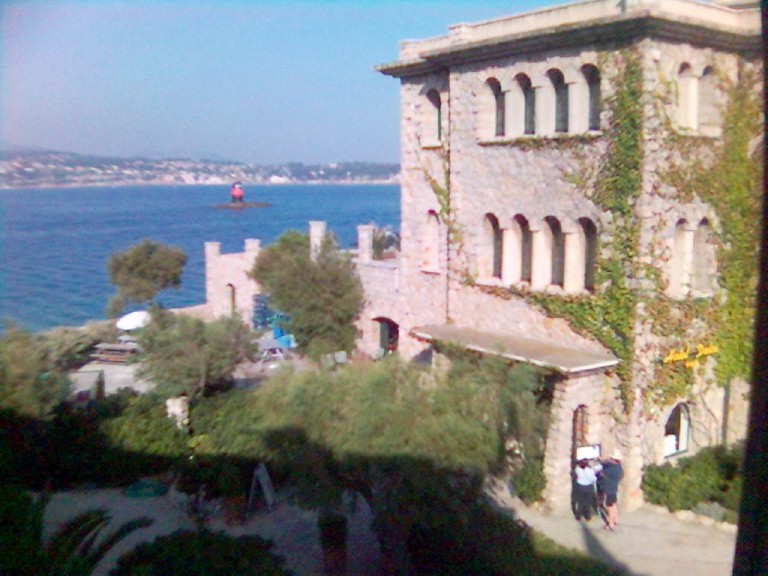 I am here on a private Mediterranean island with a Portmerion feel about it: mini mokes, can't get off island, tea shoppes. I haven't seen any large white balloons yet but I'm expecting one to blow across the beach at any moment.

I bought my guitar and my hat, I'm thinking about going busking in the little port for beer money, I'll make a ton of money, everyone is stinking rich. Mike Rutherford (is that his name, guy from Genesis) is in the same hotel as me, Maybe he could make a guest appearance in my busking set. I need the cash too, no cash machine on island so I have to charge everything to my credit card or hotel room (most of the restaurants seem to accept Hotel Le Delos room 26 as a better alternative to visa).

They even have internet, though it doesn't work very well. Incredible.

I came here 30 years ago, it's changed a lot.
posted on: 22/07/2007 at 08:20 in category: [/travel] with permanent link
---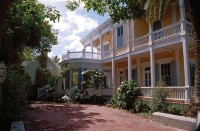 Summer has arrived at last, looking to high 30s Celsius temperatures in the next few days.

The country music festival has come around again for about the 15th time, with the good weather a fantastic turnout is expected at the weekend. Most people seem to come to see the stars of the old Dallas show, not many people are so interested in the music. A shame as there are some good acts appearing. Details on www.country-musique.com

Talking of America, I have a friend who is selling his house in Key West, absolutely fantastic place built in 1884 by a son of Florida's first millionaire. Lush tropical gardens and pool. The original servants quarters and carriage houses now serve as three guest bedrooms. bla bla bla. Click here if you are interested and want more details.
posted on: 13/07/2007 at 02:10 in category: [/travel] with permanent link
---
Rijsttafel* - En voyage pour l'Asie


We had 50 people to dinner, Oriental buffet. Here is the menu, Sorry to those who don't speak French, can't be bothered to translate it.
Salade de boeuf indonésienne
Un carpaccio de boeuf mariné dans le citron vert et un mélange d'épices et d'herbes fraîches
Rogan Josh
Curry d'agneau au tomates cuit dans le yaourt et amandes grillés. Specialité du nord de l'Inde. Moyennement epicé.
Curry rouge thaïlandais au poulet
Du poulet cuit dans le lait de noix de coco avec des piments forts et du basilic
Poulet saté
Petites brochettes de poulet marinées dans une sauce spéciale indonésienne aux cacahuètes
Gado-Gado
Légumes cuits et concombre en salade avec une sauce aux cacahuètes
Dahl
Puràe de lentilles corail avec piments frais. Plat typique de la cuisine quotidienne en Inde. Assez fort
----------------
Biryani aux légumes
Du riz basmati parfumé aux épices, herbes et amandes. Plat traditionnel de fête célèbre partout en Asie du sud.
----------------
Condiments
- Pickle de citrons verts
- Chutney frais à la coriandre
- Chutney aux figues
- Chutney frais à la banane
- Ra•ta aux concombres
- Chutney dÕoignons à la tomate
----------------
Verrines de gourmandises

* du mot hollandais "table de riz" - buffet où sont regroupàs tous les mets de la gastronomie indonésienne

posted on: 03/07/2007 at 11:54 in category: [/cooking] with permanent link
---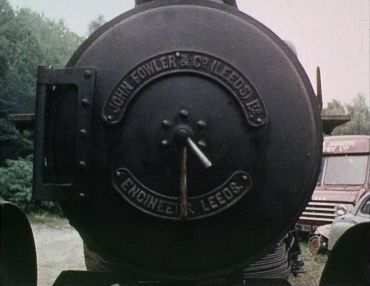 No posts for a while but my book has been greatly progressing and there are even some new songs on the way.

I was by the seaside actually, very nice it was too, swimming every day and, of course, cooking for the troops.

I little thought for Jimmy Vaughan whose presence and influence is greatly felt these. We re-released THE MOON AND THE SLEDGEHAMMER on DVD, you can buy a copy here on the film's official website themoonandthesledgehammer.com. Only £16.99.

More recipes are on the way so come back here soon


posted on: 24/06/2007 at 12:54 in category: [/magick] with permanent link
---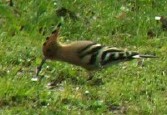 Hoopoe bird in the garden, wikipedia has a good description of this species here.

We are trying to plant tomatoes between each downpour of rain, terrible winds too. Chilli plants are ready to plant too. The only problem is that we are underwater most of the time and blown away into interglactia by the wind.



posted on: 28/05/2007 at 18:15 in category: [/travel] with permanent link
---
Having plenty of young tarragon in the herb garden and some chicken I decided to cook tarragon chicken but I was unable to find the traditional recipe in any of my cookbooks except something really complicated in Larousse Gastronomique. So I improvised this:

- Fry some chicken thighs and drumsticks in a little olive oil
- add two chopped tomatoes, honey, lime juice and a little white wine stock
- cover on a low heat until chicken pieces are cooked through
- add some coconut milk and a large bunch of chopped tarragon
- serve with saffron rice

posted on: 28/05/2007 at 12:04 in category: [/cooking] with permanent link
---
Just a little thought for Ram Gopal the great Indian dancer. I first met him in London in the 1970s when I was distributing Indian films, and then years later in France I went to visit my friend Pascal Lamorisse (funnily enough the little boy in THE RED BALLOON) in Provence France and Ram answered the door with Claude Lamorisse, I couldn't believe it at the time, we often laughed about how our paths were destined to cross. Throughout the 1980s we met in France with the Lamorisse family talking about dance and cinema. But in the early 90's we lost touch again, he died in 2003 but I sometimes feel him close by, even today. A good profile-tribute can be found here
posted on: 16/05/2007 at 21:14 in category: [/magick] with permanent link
---
For those guitarists among us it may take a while and a few viewings to understand what he is doing here: www.glumbert.com/media/mckee but it remaims exceedingly uplifting.
posted on: 14/05/2007 at 23:30 in category: [/music] with permanent link
---
Light prawn cocktail with basil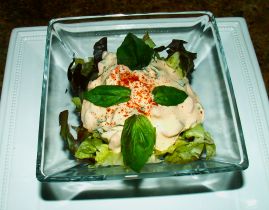 Having recovered from my gratin and rabbit phases, I now seem to be cooking shrimps or prawns almost every day. The explanation is simple: our local fishmonger has started selling real uncooked fresh prawns (sometimes they are huge, almost what we would call gambas, but I have certainly no intention of getting into a polemic about what these beasts are actually called, you all know what I'm talking about).

The problem with the standard "prawn cocktail" which is probably served on every hotel menu in the UK, is the horrible thousand island dressing (the French call it "sauce américaine" which is very apt, methinks). Usually this stuff comes out of a bottle purchased at the cash and carry, sometimes it is mayonnaise (also out of a jar) mixed with some tomato ketchup. My home-made version is light and fluffy

- boil some shrimps for 2-3 minutes (depends on size), drain and plunge into cold water
- peel shrimps
- separate an egg, beat up the white of the egg until stiff
- put the yolk of the egg, fresh lime juice, olive oil (quite a lot) into a little electric mixer and make a mayonnaise (this can be done by hand adding the oil slowly but it's so much easier using electricity
- add some tomato purée, salt and paprika (mild chilly powder is okay), some chopped basil leaves and a crushed garlic clove, mix a little more
- gently fold pink mayonnaise into the fluffy egg whites
- add the cooked prawns and serve on a bed of shredded lettuce, decorate with basil leaves and a little paprika


posted on: 11/05/2007 at 12:08 in category: [/cooking] with permanent link
---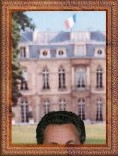 There is a new addition to the family. This little pest (right) has been creating havoc in my kitchen but, fortunately, she seems to be calming down and she is starting to uderstand about no-go areas.

Summer came and has now gone away again, we are underwater practically.

Exciting election day in France. Contribution (left) from one of my fans. Its entitled "Coming soon to every town hall in France". What was that German movie "Even dwarves started small..."? Herzog, or Fassbinder maybe?

Off on my travels again at the crack of dawn.
posted on: 06/05/2007 at 12:53 in category: [/humour] with permanent link
---
From Grasse through the Cevennes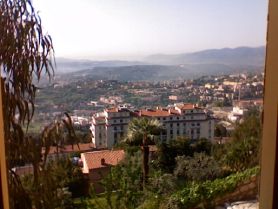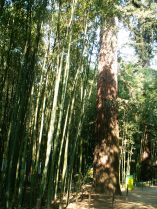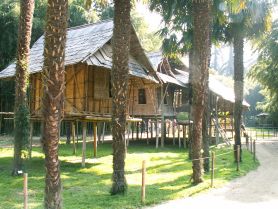 Leaving Grasse (view from window above), I drove my Hertz BMW 4 wheel drive armoured assault vehicule past Marseilles and up into les CŽvennes to visit La Bambouseraie, an incredible bamboo park and forest.
Beautiful part of France.
posted on: 03/05/2007 at 13:17 in category: [/travel] with permanent link
---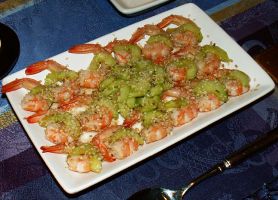 Still rushing around. Stayed in very nice Chambres d'Hotes in Grasse near Cannes, the villa Coste d'Or.

Hertz very kindly upgraded my hire car, instead of an Opel Corsa I got a huge BMW assault tank which guzzled fuel faster than I could fill it up.

Japanese birthday dinner included this shrimp dish
- boil some shrimps for 2 minutes, drain and plunge into cold water
- peel shrimps leaving the tail on
- marinate in a mixture of rice vinegar, soy sauce, sugar, sesame oil finely chopped ginger and garlic
- add some finely sliced and peeled cucumber to the marinade
- serve sprinkled with sesame seds

Japanese chicken with seaweed
- Marinate small chicken pieces in the above marinade mixture
- Drain and roll in a mixture of cornflour and finely chopped Nori (Japanese seaweed used for making sushi)
- Fry in a little oil in the wok until chicken pieces are nice and crispy.

posted on: 03/05/2007 at 12:23 in category: [/cooking] with permanent link
---
Rabbit with mustard and carrots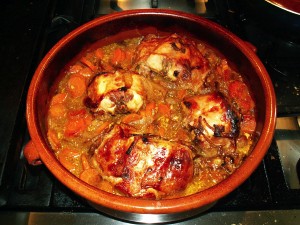 I'm off on my travels again. Cote d'Azur this time. Spring is most definitely here, we are eating outside most days. I desperately need the time to get the pool filled up and working. Some storms though.

Don't ask why I am cooking a lot of rabbit these days. Just one of those things, I suppose. This is a more classic rabbit recipe which the kids love.

- fry rabbit pieces in a little oil with some onions
- add some mustard, chopped carrots, white wine stock and a little madeira
- place in an ovenproof dish and cover
- cook in a low oven for 60 minutes
- serve with rice

posted on: 16/04/2007 at 15:14 in category: [/cooking] with permanent link
---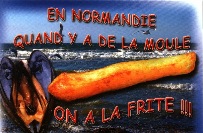 No posts for a while, too many things to do since my return from America. I've been in Italy twice (which is rather nice actually), met some interesting people, reading a fabulous book (80 men to save the planet or something like that, it's in French "80 Hommes pour changer le monde"). My novel is even progressing although I have not posted the adbriged version yet (available here).

I was in Paris several times and I even visited Chinatown for the first time. Amazing food of course but the supermarket was incredible. I bought a basket full of spices, chinese sauces, rice, soy sauce, rice vinegar, etc. (all the usual essentials for any respecting chef) and the whole thing came to 10 euros something, so cheap. I had to get the girl at the cashdesk to give me the price 4 times (I couldn't understand a word she said, maybe she was speaking Chinese or Vietnamese).

Easter has come and gone and the fine weather is here. I got the bread oven working the other Sunday and we had amazing roast beef. We had the local egg festival which included the world egg throwing competition

In a similar vein, here is a postcard received from my fan (actually my mailbox indicates I have a few more fans now, but more of that in a later post) - we are launching the world's worst postcard competition. Contributions can be submitted online to a website which I will soon set up, we are currently debating an appropriate name.

posted on: 14/04/2007 at 09:55 in category: [/humour] with permanent link
---
My travels in America and lunar eclipse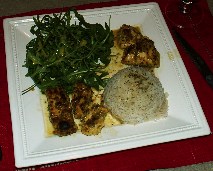 I been on my travels again: Paris, of course, but also Atlanta Georgia. The place is just like one huge suburb that never stops, the people are nice, the food copious and the coffee dreadful.
I encountered some interesting recipes. The young spinach leaf salad with bits of bacon and strawberries (yes the fruit) worked surprising well and the sweet potato fries were memorable.

To completely change the subject, we religiously followed the instructions in the magic stone book and regenerated our stones last night when there was the full moon. For those who haven't read the magik stone saga click here.
Anyway there is a fucking lunar eclipse, the full moon sort of went brown (dirty planet earth getting in the way) and disappeared. I hope this does not have a negative effect on the stones which had been soaking in salt for a day and, according to the book, should be dried in the moonlight.

To completely change the subject once again, here is a slightly better photo of the rabbit recipe.

This coming week it looks like Milano and Venice and I have a super new laptop MacBook so I'll be posting new recipes and recitals from Italy.
posted on: 04/03/2007 at 13:47 in category: [/magick] with permanent link
---
Rabbit with three mustards and two corianders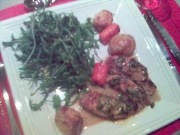 Very strong winds yesterday, warm and dusty, the poor dog nearly got blown off his feet. Still no winter to speak of.
I found some rabbit breast at the local butcher and this experiment turned out rather well:
- mix together strong dijon mustard, whole grain mustard and mild yellow mustard with some ground coriander seeds, chopped coriander leaves and lemon juice
- generously coat the rabbit breasts in the mustard mixture
- place in an ovenproof dish and pour over some madeira
- cook in a hot oven for 45 minutes
- serve with roast vegetables and roquette salad sprinkled with a little mustard sauce made by adding a little more lemon juice and some olive oil to the remaining mustard marinade
Sorry about the terrible photo, no batteries in the camera so I took it with the mobile phone.
posted on: 15/02/2007 at 08:51 in category: [/cooking] with permanent link
---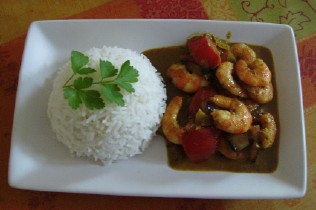 Have been extremely lazy with recent posts, some days there are so many things to do and so many things to say and just nothing materializes.
We've all been a little dogged by illness, a mixture of huge temperature differences and doing too many things at the same time. Indeed Winter finally arrived last week, we even had snow for a couple of hours and now we are back to Spring again with glorious sunshine and almost summer temperatures, lunching out on the terrace in January is hitherto unheard of, but we get frost at night so the termerature difference over a 24 hour period is sometimes over 20 degrees Celsius.
The wood stove keeps us warm and does most of the cooking - curries, casseroles and saucy dishes are obviously much easier than Chinese food (to get enough heat for the wok you have to really get the wood blazing).
Here is a basic Indian curry recipe which can be adapted to almost anything:
- fry some onions in ghee or oil
- grind up a spice paste with fenugrec seeds, coriander seeds, cardomom pods, cloves, chilli peppers, cinnamon, turmeric (haldi - important for yellow color, you can also use saffron) and garlic
- add the spice mixture to the pan and stir for a couple of minutes, make sure nothing burns
- add two chopped tomatoes and some coconut milk (if using uncooked prawns or shrimp add these too), heat until sauce thickens, otherwise wait and...
- add peeled (cooked) prawns for a few minutes just to heat through.
posted on: 03/02/2007 at 18:09 in category: [/cooking] with permanent link
---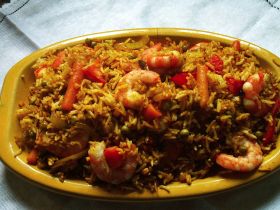 This is a great recipe for left-over rice which we often have available: every good household should have several woks and a Chinese Rice Cooker? These wonderful machines are incredibly cheap in any Chinese supermarket (don't buy one anywhere else, they cost a fortune), you just put in rice, salt and water and it cooks and stays warm all by itself. I still haven't worked out how they work (well with electricity obviously, you have to plug it in) - they automatically switch from "rice cooking" mode to "keep warm" mode somehow.
- fry some onions and pepper in ghee or oil
- grind up a spice paste with cardomom, cloves, chilli peppers, cinnamon, turmeric (haldi - important for yellow color, you can also use saffron) and garlic - add cooked rice, a tin of peas and the spice mixture to the pan
- stir and heat throroughly and add peeled (cooked) prawns
- serve with cucumber raita and mango chutney
There are endless alternatives and variations to this recipe, replace the shrimps with cooked chicken pieces, left-over meat, the remains of a curry, fish, or mixed vegetables. Mushrooms are good too but they make the rice turn to a sickly colour of grey so it's not so presentable. You can also use this dish in large quantities as the centre of a curry tiffin - decorate with chopped coriander, toasted almonds or cashews and chopped white and yolk of hard boiled eggs.
posted on: 16/01/2007 at 17:57 in category: [/cooking] with permanent link
---
I've been neglecting the posts here, too many things to do at the same time.
- chop some chicken breast (this recipe also works with pork fillet) into tiny pieces, toss in cornflour and fry in some oil until light brown and crisp, depending on quantity you may need to make two or three batches
- take out the cooked the chicken pieces and drain on some kitchen roll
- fry chopped onion and peppers in remaining oil, add a very thinly sliced carrot (I sometimes add some broccoli flowers too)
- once the vegetables are starting to get soft add a tin of chopped pineapple pieces and their juice, some tomato purée, soy sauce, vinegar, sugar and a little cornflour dissolved in some sherry
- cook for a few minutes until the sauce starts to thicken and add the fried chicken pieces
- serve with rice or as part of an oriental buffet.
Meanwhile a little progess on the book and still no sight of winter.
posted on: 16/01/2007 at 15:06 in category: [/cooking] with permanent link
---