Wed, 11 Nov 2015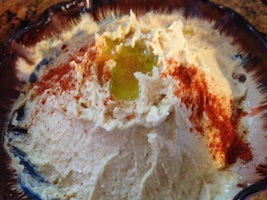 It's been ages since I made this classic dip, I'd forgotten how simple to make and tasty it is. The secret is having the right size blender: not too big as you end up pushing the ingredients back down in the bowl to get properly blitzed; and not to small or you end up overflowing.
- put a tin of (cooked) chick peas and some garlic cloves (the number depends upon how garlicky you like your hummus) in the blender
- Add the juice of a lemon and some tahini (ground sesame paste, it can be found in most oriental markets)
- Start blending and add olive oil slowly until you obtain a smooth consistency
- Season with plenty of pepper
- Add a little cream or, better, fromage blank to lighten
- Decorate with sweet paprika and olive oil and serve as a dip with pitta bread

posted at: 18:42 |[/cooking] permanent link
---
Thu, 08 Oct 2015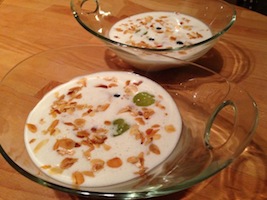 This is a really interesting soup, deliciously surprising.
- soak some white bread in a little water (cut the crusts off first)
- Take a similar amount of almonds (ie: equal amounts of bread and almonds) and grind in the blender
- Add two or three cloves of garlic and the soaked bread, grind a bit more until you get a paste
- Add a little sherry vinegar
- Slowly drizzle with olive oil and keep blending in the mixer until the resulting "paste" become smooth
- Add water slowly until you obtain the required consistency: the soup should be slightly thick but not too watery
- Season with plenty salt and pepper and place in the fridge to cool for at least 2 hours or more
- This soup need to be served very cool, you can add a couple of ice cubes before serving if necessary
- Decorate with roasted almonds and deseeded grapes (black and white)

posted at: 19:22 |[/cooking] permanent link
---
Fri, 12 Jun 2015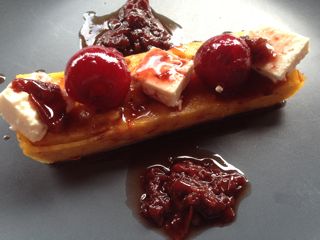 Our friend Balazs brought us a jar of sour cherries from Hungary so I used them in this starter, inspired by the Tables des Cordeliers restaurant in Condom (see here)
- make some polenta according to the instructions on the packet, add some chopped sun-dried tomatoes and a little grated parmesan. Press down into a square or rectangular dish and put in the fridge to set.
- Reduce some sour cherries in their juice with a little red wine vinegar and some sugar. Crush the cherries into a pulp and boil until the sauce starts to thicken.
- Remove the pips from a few fresh cherries (I have a de-pipper designed for olives but it works for cherries too)
- Add the fresh cherries to the sauce for just one minute so they heat through
- slice "fingers" of polenta and place them under a hot grill until they are heated through and starting to "toast" on top
- decorate the polenta slices with small squares of feta cheese and the fresh cherries
- garnish with the hot cherry sauce


posted at: 21:02 |[/cooking] permanent link
---
Sun, 07 Jun 2015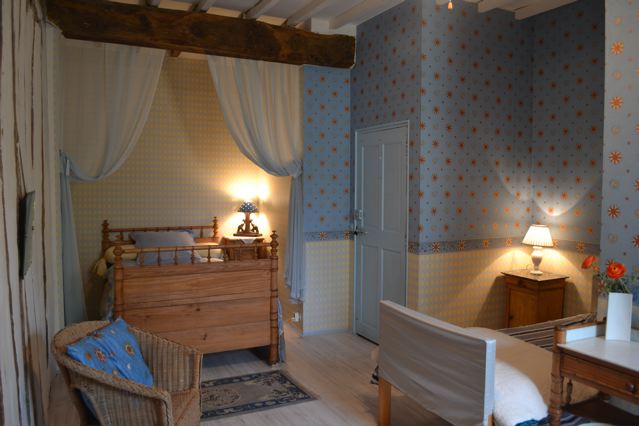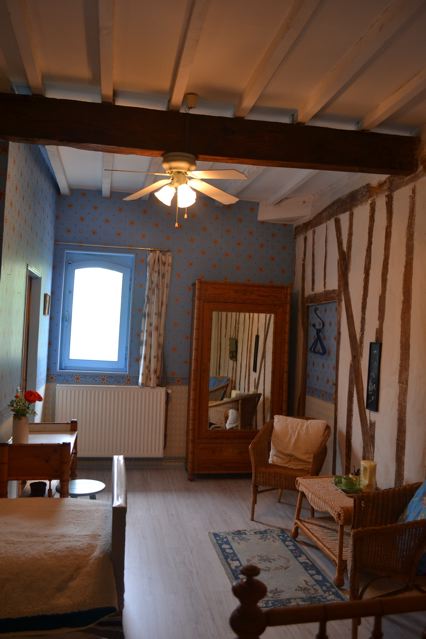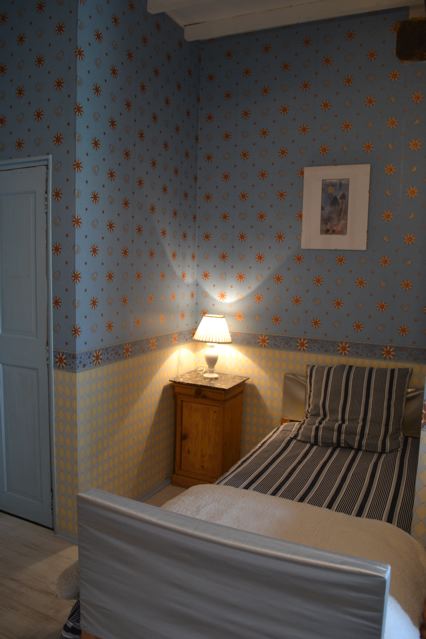 We've been decorating, new floor.
posted at: 09:49 |[/travel] permanent link
---
Sun, 24 May 2015

We've been decorating, new floor, new shower.
posted at: 17:48 |[/travel] permanent link
---
Sun, 22 Feb 2015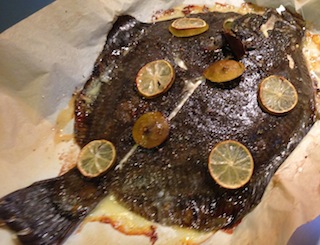 I came across this beast at the fishmongers, absolutely divine.
- make some diagonal incisions in the fish.
- Rub some salt, pepper and herbs (thyme is good, oregano or rosemary too) into the flesh
- Place the fish, dar side up, in a roasting pan
- Drizzle with olive oil and a little white wine
- Place some lemon slices on top
- Bake in a hot oven for 25 minutes or more for a big fish



posted at: 11:52 |[/cooking] permanent link
---
Thu, 22 Jan 2015

posted at: 13:23 |[/humour] permanent link
---
Thu, 30 Oct 2014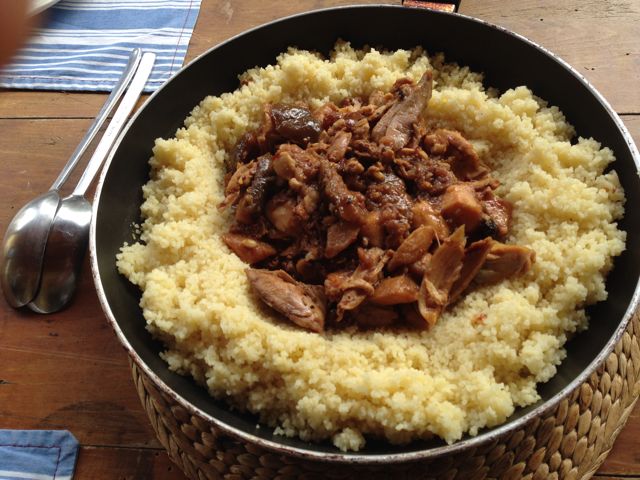 We have a lot of fruit in the orchard and it's been a bumper year for figs.
- melt some butter in a small pan and skim off the white impurities that come to the surface, these are the bits that can burn. The result is "clarified butter" but you can also use Ghee from India, which is the same thing.
- Mix the melted clarified butter with some honey and baste a guinea fowl all over. Season well. Place is a roasting pan. You can also use a small chicken.
- Cook in the oven at 180°. For a guinea fowl the total cooking time will be about 45 minutes, you will need longer for a chicken.
- 20 minutes before the end of the cooking time add the following mixture to the pan:
- peeled and chopped pears
- peeled and chopped apples
- roughly chopped walnuts
- quartered fresh figs
- some raisons and sultanas
- the bird should be golden brown when ready, with delicious crispy skin. You can serve as is, or carve the meat and serve with the fruit and couscous (photo right)

posted at: 12:00 |[/cooking] permanent link
---
Sun, 12 Oct 2014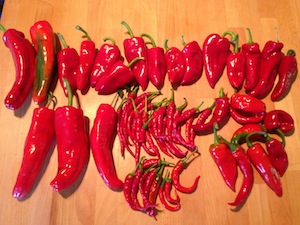 It's that time of year again. There are plenty more in the garden and we've got a bumper crop of figs this year.
posted at: 10:30 |[/cooking] permanent link
---
Mon, 04 Aug 2014
These are mostly very old songs re-recorded recently under conditions of live performance. Two bonus tracks are included, the No-Go day opus in it's full version and a gem from the Incredibles. Credits go to Neil Pointon for half the lyrics on Just My Kind, the middle bit of European Cowboy and inspiration for Von Kant. Neil actually rehearsed several of these reworked songs with me before disappearing off again on his bike, just when we were nearly ready to record. I hope he'll come back down off his Yorkshire Dale one of these days.
The collection is called Unshaven, because I started growing a beard, and the performance was really without any frills or overdubs. You will be pleased to know that the beard project was short lived.
posted at: 22:22 |[/music] permanent link
---