Sat, 17 May 2014

New Jouandassou website online: Jouandassou.com
posted at: 12:27 |[/travel] permanent link
---
Sat, 26 Apr 2014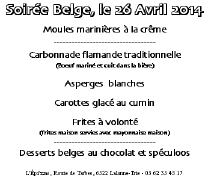 Moules marinières (mussels in creamy sauce)
----------------------------------
Traditional Flemish Carbonnade
(Marinated beef cooked in Belgian beer)

Apsaragus
Glazed carrots
Chips
(as many fried potatoes as you can eat
- served with mayonnaise - all home-made)
-----------------------------------
Desserts with Belgian chocolate
and speculos



posted at: 20:45 |[/cooking] permanent link
---
Sat, 22 Feb 2014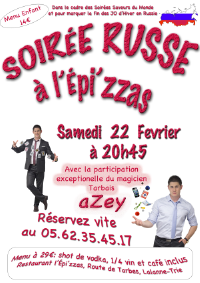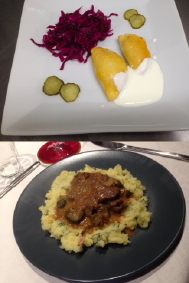 Bortsch
----------------------------------
Pirojkis (top right)
Stuffed with carrots/cabbage
and mushrooms/anchivies

Red cabbage salad
Sour cream
-----------------------------------
Beef Stroganoff (bottom right)

with
Potato and dill mash
Mustard sour cream
-----------------------------------
Blinis

with
Compote of apple and red fruit and Lemon mousse
-------------

Entertainment by aZey the Magician

posted at: 20:45 |[/cooking] permanent link
---
Sat, 25 Jan 2014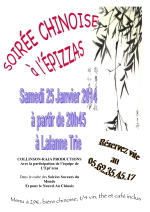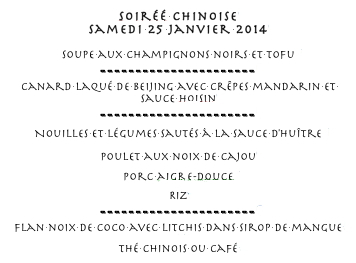 - Tofu and black mushroom soup
•••••
- Peking duck with pancakes and Hoisin sauce
•••••
- Sweet and sour pork
- Chicken with cashew nuts
- Stir fried vegetables with noodles
- Rice
•••••
- Coconut flan with lychees and mango syrup
- Sesamé crackers and fortune cookies
•••••
- Chinese tea, Tsingtao


posted at: 20:45 |[/cooking] permanent link
---
Wed, 11 Dec 2013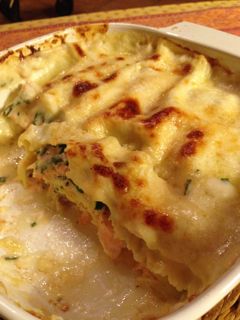 - use a back of salmon, extract all the bones
- make a light béchamel sauce using half-milk half-water
- season the sauce with nutmeg
- cut the salmon into thin slices crosswise, add a lot of pepper
- make layers of salmon, fresh spinach leaves, béchamel sauce and lasagne
- I also add some chopped chives
- make three of four layers and finish with some grated parmesan
- bake in a hot oven for 25 minutes






posted at: 18:06 |[/cooking] permanent link
---
Wed, 04 Dec 2013
Polenta, Veal stew with carrots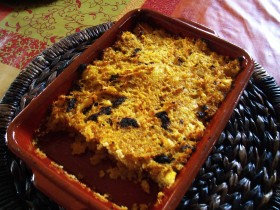 I know I promised the blanquette de veau recipe accompanied by mixed roast vegetables but first I must divulge this wonderful polenta invention.
method:
- cook some polenta
- mix it (use a fork) with some chopped sun-dried tomatoes, olive oil and spices (cumin, chilli, coriander, cinnamon, etc. etc. - whatever takes your fancy)
- place in an overproof dish and grill in a hot oven until cooked through and lightly browned on top
Blanquette de Veau method:
- fry some chopped onions in a little oil
- add bite sized chunks of veal and brown
- add chopped carrots, garlic and a little flour
- add white wine (or dry cider) and stock to cover, salt, pepper
- place in a casserole dish and cook in a cool oven (160 degrees) for a couple of hours until the meat is tender and the sauce thick.
- Serve with slices of grilled polenta (see above)
posted at: 16:05 |[/cooking] permanent link
---
| | | |
| --- | --- | --- |
| Stuffed sea bass | A "pot" and sex toy tea strainer | Cake |
posted at: 10:58 |[/cooking] permanent link
---
Sat, 30 Nov 2013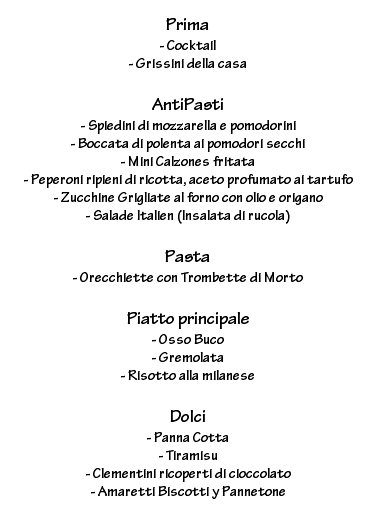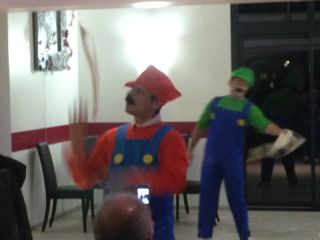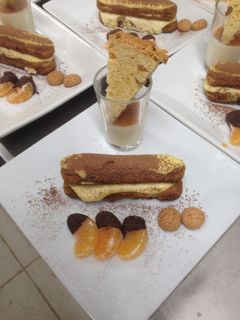 And a fantastic pizza dough slinging show by Mario
and Luigi.












posted at: 10:08 |[/cooking] permanent link
---
Thu, 14 Nov 2013
Authentic Italian Theme Evening at Bruno Raja's Restaurant

Next Theme Evening

November 30th 2013, 8:30pm

Gourmet Italian Menu
posted at: 18:06 |[/cooking] permanent link
---
Sat, 09 Nov 2013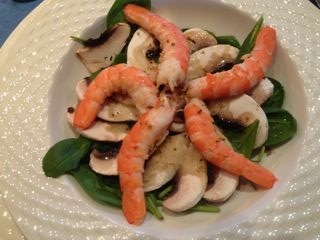 Well this is turning into a real Mushroom Month.

We went for a lovely dinner with our friends Alan Cook (ex-manager of the famous GothRock band "Sauerkraut" as featured elsewhere on this website, click here for more details if you are really interested) and Elisabeth Guinness.

Elisabeth runs the Guinness Gallery in Dublin and she is an excellent cook.

The spicy pork stew was fantastic but it was the starter of raw mushrooms and prawns which inspired me for this recipe. I have only slightly modified Elisabeth's original recipe by adding some spinach leaves and a slightly sweeter dressing to counteract their bitterness.

- thinly slice some mushrooms
- place on a bed of baby spinach leaves
- add some peeled prawns
- make a dressing with honey, lime juice, olive oil, oregano, salt and mild red paprika powder
- drizzle dressing on the salad

posted at: 09:48 |[/cooking] permanent link
---